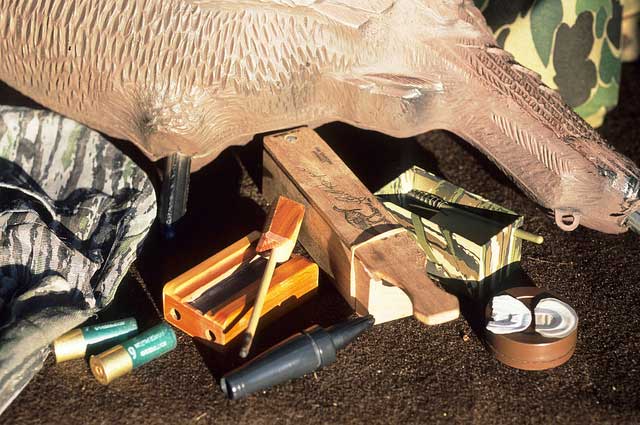 Best Turkey Mouth Call – Reviews By An Expert Turkey Hunter
If you're a real turkey hunter, a turkey mouth call is a Must-Have item in your list of hunting gear.
Mouth calls are the most versatile turkey calls available today. They produce ultra-realistic turkey sounds; they're cheap, compact, and super lightweight. Above all, they present you with an extensive range of sounds and volumes- with hands-free operation.
As such, you'll have a huge advantage not only when you're sitting upon that tree blind and calling, but also when a gobbler you're monitoring is taking the final steps that will lead him into your range.
That being said, we have put up a list of the best turkey mouth calls that will greatly help you bag your Thanksgiving dinner in your next hunting excursion.
But first, we will take you through a helpful guide on how to select the perfect mouth call for all your hunting needs…
What To Look for Before Buying Turkey Mouth Call
Take Note: When choosing the best turkey mouth call, you ought to be as much honest with yourself regarding how good a caller you are. This will help you select the ideal mouth call that suits your level of experience.
Consider these factors when looking for a turkey mouth call:
Your Level of Experience
What we've just mentioned above!
If you're an absolute beginner, you would want to consider a single or double reed call without cuts- just straight reeds. The reason behind this is that presence of cuts in the reed creates a rasp, hiding imperfections in your calling.
While this might not sound necessarily a bad thing, remember that you want to hear you are doing as you go about using the call (the only way to master the art of calling turkeys).
So, be sure to buy a clean sounding model and learn to make basic yelps with a smooth high-to-low tone drop.
As you become better at calling, you can now go for other calls on the market such as the triple reeds, quads, ghost cuts, cutters, 2.5s, and so much more.
The Hunting Season
Yes, the season you're hunting the birds in also contributes to your choice of a mouth call. While some styles of these calls produce calls suitable for all season hunting, most of them are perfect for use in a given hunting season only.
For instance, the ghost cut and double cut mouth calls are ideal for fall hunting season where it produces whistles, tree yelps, and kee-kees.
Terrain/Type of Land You'll be Hunting In
You need to have sufficient knowledge of the environment you'll be conducting your hunting activities in before you head to the stores in search of a turkey mouth call.
This is based on the fact that different mouth calls have different styles to produce sounds that match different environments or terrains. In other words, the reeds of these calls are cut in cut differently to create different sounds.
The more the number of reeds and cuts, the more rasp, and volume the call will produce. And such a call is ideal for use in windy conditions, or to make cackles and aggressive cutts.
The flipside is also true. The fewer the reeds and more subtle the cuts are, the less vibration plus softer tones you'll get- ideal for tree yelping as well as close-in work.
Ease of Use
Another important aspect to consider when looking for the best turkey mouth call is its ease of use.
In simple terms, look for a call that's soft and comfortable for you to use. I highly recommend you to go for calls made from the infinite latex material.
Why?
Such calls require you to blow in less air for them to work, and such amount of air leads to the production of a greater variety of highly realistic sounds.
An added benefit to an easy to use mouth call is that it gives the beginners an easy time when learning how to call a turkey for the first time.
Top 10 Best Turkey Mouth Call Picks:
1. Primos Hunting Hook Hunter Turkey Mouth Call Review:
Similar to all the other products from Primos, a special team comprising of people with a century experience combined to design the Primos Hunting Hook Hunter Turkey Mouth Call. And this is evident in every part of the excellently designed call.
For instance, they are designed using premium gauge reeds that are precision-cut by hands.
The mouth call requires a little amount of air to produce sound, making it real easy to use- especially for the beginners. What's more, it allows you to make a greater variety if real-life turkey calls that suit your different hunting situations.
The pitches that will come out of this call would be so realistic- such that they'll lure the wisest of the toms in your hunting spot into crossing your range. In other words, the Hook Hunter is among the most versatile turkey mouth calls you'll find on the market.
If you're beginner who's desperate to learn how to use a turkey mouth call, this should be your starting point.
Most novices have come back with testimonies of how easy the call was to use from the first day. The complete pack comes with two calls- with great fit and incredibly comfortable- all at the same great price tag!
Highlighted Features:​
Features Ghost cut- requires less air to output kee-kee or purrs
Designed with premium gauge reeds and precision, hand-made cuts
Custom designed by experts with over 100 years of experience
Produces unique and highly realistic pitches that lure even the wisest tom
The model with sharp spike is the most universal call
2. Primos Hunting Hook Hunter Long Hook Upper Cut Turkey Mouth Call Review:
​
This is yet another product from Primos. The reason we'll include Primos Turkey calls on our list of the best mouth calls again and is due to the high-quality products they make! Again, this call is designed by a team of experts with over a hundred years of experience. Plus it boasts a premium design.
This call is specially designed for hunters who wish to produce extremely raspy calls. The secret behind the call' ability to produce such sounds is the handmade cuts that have been designed with absolute precision.
The sounds generated by this call are so realistic that you'll need to make a few of them and the gobbler flocks start coming to your direction!
Because of its ability to produce the raspy yelps, this call is ideal for use in both spring and fall hunting seasons.
The call is perfect for all level turkey hunters- whether you're a beginner or expert hunter. Going by the reviews posted users of this product; most of them are absolute beginners and had an easy time learning to use the call.
Not to forget that there are also avid hunters who glorify the call for its excellent performance at drawing the birds.
Highlighted Features:​
Features uppercut which is ideal for producing raspy yelps
Premium design
Premium gauge reeds
Precision handmade cuts for ultimate performance
Delivers real and unique pitches
Customary designed by a team with over a century experience
3. Primos Mastering The Art Turkey Call:
​
Hey! It's time to learn how to "Master The Art of Turkey Calling" with this in-depth CD from Primos. Prepared by experts, the instructional video will teach you how effective and straightforward the mouth call is to use.
You'll just need to listen carefully and practice along with experts- Try Ruiz and Will Primos- as they spell out the instructions and expert tips on how you can become an expert caller.
But this is not just a CD! The package also includes a pack of three easy to use mouth calls alongside the CD. These helps you figure the suitable type of call for your hunting needs. The instructional video isn't juts meant for the beginners.
Advanced hunters can learn some advanced techniques that will help improve their hunting game and guarantee them of carrying a gobbler out of the woods.
With this unique package, you'll get to uncover all the trade secrets you need to start calling the turkeys in no time. The video has a runtime of 2 and half hours and offers you eight demo hunts. As a special bonus- the CD includes your favorite song- the InchOn God's Front Porch-Inch.
Highlighted Features:​
Ideal for the beginner, professional, and recreational turkey hunters
Quality materials used in design of all Primos products
Mini-A Frame Double-see through Mouth call case
Sonic Dome Double and many beards
Easy to follow instructional video
4. Primos Cutter Call Review:
​
The best way to get the bang for your buck is by investing in the Primos Cutter Call pack. Incredibly easy to cut on, these calls are renowned for their ability to deliver sharp, crisp cuts that roll into the raspy yelps.
The three pack cutter call is simply the easiest way to lure turkeys your way without digging deeper into your pocket.
The cutter call is ideal for any level of skill. It features three calls. These include the two A frames which employ a patent pending technology that traps the reeds and maintains the ideal mouth of tension- so that your call sounds great over time.
This frame is perfectly contoured to fit your mouth. Not forgetting that it's incredibly easy to use. You'll also get the Sonic Dome- designed such that the calls automatically position itself well in your mouth. This particular dome comes up with its own chamber to ensure incredible, consistent sound.
A see through mouth call case also comes handy. This helps you carry, organize, and even protect your calls when on hunting trips. In other words, the case will give your calls more life.
Highlighted Features:​
Quality materials used in the design of the calls
Suitable for all skill levels
Sonic Dome Triple with BAT Cut
A-Frame Double with Double Cut
A-Frame Triple with BAT Cut
A see through mouth call case provided
5. Quaker Boy Turkey Thugs 4 Pack Mouth Calls:
​
The Turkey Thugs 4 Pack Mouth Calls are a product of the partnership between Quaker Boy incorporated and Mossy Oak Turkey Thugs. The result is a line of excellent turkey hunting calls as well as additional gear- featuring Thug logo- intended to give you an edge while turkey hunting.
The products are designed by experts with an experience of more than five decades in the industry. To top it all, everything in these calls is made in the USA!
This particular mouth call is shipped in packs of 4 top-quality calls which mean extend versatility. Each of these calls gives you a unique (but realistic) turkey sound.
The fact that this package comes with a carry means you don't have to worry about your calls getting damaged or getting lost while hunting. The package is ideal for all levels of turkey hunter skills- from starters to pro.
Because they're incredibly easy to learn, newbie turkey hunters will find these calls a gem. The price is pocket-friendly, making them affordable for all. Previous users rate them as "Great Calls" that are of reliable quality and long-lasting before the need to replace them arises.
Highlighted Features:​
Highly versatile pack of 4 mouth calls
The favorite mouth call for Thugs brand
Complete package comprises four deadly calls
Convenient carry case provided
6. Hunters Specialties H.S. Strut Turkey Diaphragm Ultimate Starter Pack:
​
If you're looking for a mouth call that works perfect for your kids as well as adults, then the H.S. Strut Small Frame Turkey Diaphragm will be a safe bet. The call has a comfortable and soft design which makes it user-friendly. It's extremely compact, making it convenient for youngsters as well as adults with smaller palates and mouths.
Most people tend to raise doubts over the small frame of this particular call. Surprisingly, this does not affect the tool's calling capabilities in any way. It's still capable of producing top-quality turkey sounds that even the wariest of the birds cannot resist.
The tool is designed from infinity latex material. That means that you'll need to feed it with a significantly little amount of air for it to operate correctly.
This not only makes the call easy to use, but it also makes it produce a wide variety of sounds that feel and look more realistic than you can figure out.
The fact that the complete pack features three high-quality calls is a huge plus for family hunting. You'll have more than enough calls for your entire family. Or you can use the extras as a backup when necessary.
The deadly call trio includes the Split V II with two ultra-thin reeds, a raspy old hen with two ultra-thin double split reeds, and the Double D with two ultra-thin reeds.
Highlighted Features:​
Features Infinity Latex
Precision controlled thickness
Soft and comfortable calls
Compact design for small plates and mouths
Patented process that locks the latex into the same exact position each time
7. Hunter's Specialties Infinity Latex Diaphragm Turkey Call:
​
Pick the Hunter's Specialties Infinity Latex Diaphragm Turkey Call if you're willing to speak the language of the wild turkeys with unparalleled realism. Unlike most of its rivals out there, this myth call is made from Infinity latex.
This means that you need to put in only a little amount of air pressure and make more realistic calls. Not forgetting these calls are long lasting and consistent.
The Hunter's Specialties employs their own process which facilitates precision latex stretching in an accurate 180 degrees arc- while precisely locking your call in place for consistent sound production. That's what the manufacturer refers to as the Premium Flex advantage.
The versatility offered to you by this mouth call is ungovernable! You are allowed to pick from a broad array of the Diaphragm turkey calls- all of which produce realistic Cutts, cackles, and yelps.
You can choose from the Single D (featuring one medium reed), Double Dead (features 2 ultra-thin reeds), Triple Trauma (features 3 ultra-thin reeds), Power V (features four reed), Raspy Old Hen (features 2 reeds), Cutt'n 2.5 (features 2 ultra-thin reeds), Double D (features 2 ultra-thin reeds), Smokin' Gun (features 3 thin reeds), and Ol' Mama Hen (features 2 and 1½ thin reeds).
Highlighted Features:​
Easy to use
Comfortable
A broad range of diaphragm calls to pick from
Highly authentic sounds produced
8. Hunters Specialties Johnny Stewart Expert Edge Predator Combo Pack Review:
​
This is a must-have combo that gives you the real value for your cash. Easy to use, producing pretty authentic sounds and offering you a great set of calls- all at a great price!
This diaphragm does not require you to have used a diaphragm call before. By just watching the video tutorial provided, you'll get a good start point. And with time, you'll be speaking the language of the wild turkeys like the experts do!
This unique combo comprised the Primal Series Cat's Meow single-reed, Triple Dog Pounder triple-reed Premium Flex, and Double Talkin' Dog Double-reed mouth calls.
All the calls are made from the durable Infinity Latex which also makes them comfortable and easy to use.
The instructional CD features the World Predator Calling Champion- Steve Criner! So, when watching the video, be prepared to get nothing less of expert advice!
Highlighted Features:​
Effective on all predators
Easy to blow
Use what the experts use
Instructional CD included
9. H.S. Strut Ultimate Starter Pack Turkey Diaphragm Calls by Hunter's Specialties Review:
​
Here's the perfect trio of calls for any level turkey hunter. Labeled by the manufacturer as the ultimate starter pack, the pack is ideal for all those who are new to the turkey hunting sport. The pack features three top-quality calls namely the Double D, E-Z Rasp Diaphragm call and the Raspy Old Hen.
All the calls in the package feature the new Infinity Latex. Among other things, this means you'll be using less air to successfully operate the calls, which translates to the production of highly realistic sounds. The latex is precision stretched to boost the authenticity of the vocalizations produced.
With these calls, you'll be better off bagging that monster gobbler in your next hunting trip.
Highlighted Features:​
Features Infinity Latex
Precision controlled thickness
Soft and comfortable
Suitable for various mouth sizes and palates
Patented process locks the latex into the same exact position every time
10. Primos 1245 Hook Hunter Curved Hooks Review:
​
It's Primos again! Also in the line of Primos Hook Hunter Series, this turkey mouth call will also produce unique, incredibly realistic pitches that pull the birds like a magnet.
Like the other Primos calls we have seen above, this tool has been designed by a team of experts with experience spanning over 100 years to give you the best of the best results.
The call is designed using quality materials, making it real comfortable for users with different skills levels. Premium gauge reeds and precision handmade cuts are some of the features that prove the call's high-quality design.
You'll be amazed by how effortless it is when it comes to using these calls. And that wild turkey you're targeting will be hooked when you "speak his language" using this tool.
Highlighted Features:​
Custom designed curved hooks
Crew cut design
Two latex reeds
Unique low and high tones that drive the toms crazy
Incredibly real calls and unique pitches
3 Powerful Tips for Using Turkey Mouth Call
As we said at the beginning of this article, a turkey mouth call is a must-have tool if you want to enjoy the ultimate success when hunting these birds. However, if you've never used this call before, you'll need to spend some quality time and practice to before you can master how to use one.
Unfortunately, most turkey hunters tend to give up when they're unable to make the real wild turkey calls with their mouth calls.
If you are also on the verge of giving up, follow these tips to improve your turkey mouth call game:
First things first: if you want to have an easy time learning how to use these calls, make sure you have a high-quality call. Such calls not only produce a variety of sounds but are also ideal for beginners.
And now to the tips:
1. How to use your mouth call the right way
To use your mouth call correctly, start by placing it into your mouth such that the open side faces outside.
Next, gently push it into the roof of your mouth with the aid of your tongue.
Avoid bending its frame wherever possible as this might loosen the reed and negatively affect the sound produced.
2. Learn to make different sounds with your mouth call
It's possible to produce different turkey sounds your turkey mouth call. But I recommend you to start with the most basic call- the yelp.
Other than being the most basic, it's the easiest call to learn. Making a turkey yelp involves holding your call against the roof of your mouth using your tongue and then exhaling to force air between your tongue and the call.
If any escapes when making the call, it's an indicator that you're doing it wrong.
The higher the amount of pressure you deliver against the reed using your tongue, the higher the tone you'll make. And the lesser the pressure, the lower your tone will be.
3. How to vary/control the sound produced by your turkey mouth call
Being an incredibly versatile tool, the turkey mouth call also allows you to alter the actual sound coming from it. You achieve this by just applying less or more pressure on the lid.
If you slightly open or close your mouth- as fast as possible- you'll be able to make a variety of low and high sounds. As you speed this up, it ought to sound like a real-life raspy hen.
Blending the low and high tones produces the yelping sound.
Final Verdict
The need to bring a mouth call to all your turkey hunting trips cannot be stressed more. This is a handy piece of equipment that helps you produce ultra-realistic sounds that lure flocks of gobblers into your range.
Learning to use these calls isn't a big deal. Start with the easy to make yelp as both gobblers and hens use it in the spring and fall seasons. Once you're good at making yelps, making the other sounds becomes as easy as pie.
The best turkey mouth call for all your hunting needs should be easy to use, lightweight and portable, and have the ability to produce a wide variety of sounds similar to those of a real wild turkey. These are the exact features you'll get in all the ten mouth calls we have selected for you above.
The fact that they're also affordable will make you want to buy them right away and make your turkey hunting life simpler and fun.