1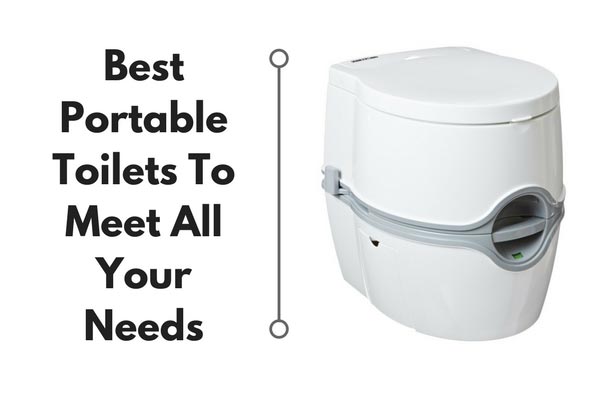 Top 10 Best Portable Toilet Reviews – For All Purpose Uses
Portable toilets are usually referred to as camping toilets. But that does not mean they're limited to camping trips only. Rather, they can be used in juts any situation where the traditional model absent or inconvenient. These toilets are relatively cheap, hygienic, and incredibly easy to use.
With a broad range of sizes and designs, however, not all these toilets will be ideal for your needs. You need to pick the best portable toilet; the highest quality models that will not disappoint you while out there and leave you with biological hazards on your hands. Ideally, the perfect unit should be small-sized (for easy carry), light, and durable. And it should be comfortable to use too.
So, how do you ensure the toilet you pick matches the ideal unit above? Though the needs of every individual will vary, we have selected the ten best portable units with different features, prices, etc., so that you can find the most ideal one for you.
But before we introduce these TEN top-rated portable toilets to you, let's begin by taking you through a definitive guide of how should pick the right portable toilet for your needs…
Things to Consider Before Buying a Portable Toilet
Holding Tank Capacity
First, you want to ensure that your new portable toilet will not disappoint you when you're outdoors. One of the surest ways to go about this is paying close attention to the volume of the toilet and your needs.
Let's say you are going out for an overnight camping as a couple. In this case, you'll need a smaller toilet- probably a 2.6 gallons capacity or so. What if you're going with your entire family for a few weeks?
In such cases, you'll need a bigger portable toilet- with the biggest ones offering you up to 5 gallons holding capacity.
Size
Other than the volume of waste they can hold, portable toilets come in various sizes. If you're planning to use your toilet on RV or boat where space is limited, take note of the toilet dimensions before you buy it.
Aside from fitting your toilet into the available space, remember that you'll also need some space around it for easy removal of the waste tank for emptying.
When going for a hike, the size of your toilet will be even more important. You'll need a small toilet that will easily fit in your car for transportation to the desired area as well as convenient to use when you reach there.
Budget
Budget is a special consideration when it comes to getting the best portable toilet for your needs.
As you know, different toilets come with different prices, and having a budget in mind will minimize the confusion. Typically, you can grab a basic toilet for only $20. Such a toilet has nothing fancy; just a 5-gallon basket with the toilet seat lid.
If you want a more modern model than this, be ready to spend more money- probably more than $200. Usually, you'll be able to get a great portable toilet with impressive features for around $125.
Comfort
You'd also want to consider which toilet makes you more comfortable. Some folks don't mind using a bucket with the toilet seat as the lid. Others don't even fancy a portable toilet; they'll just use a plastic bag or liner for easier waste disposal.
Still, some people want the traditional toilet experience. Identifying the features that you like in a portable toilet is critical to picking the most comfortable unit for you.
Material Used To Construct The Toilet
Yes, the quality of material used in the craftsmanship of the toilet also matters. Some portable models use the elementary grade plastic material- this is similar to what you'll find on an average container.
Other brands use high-quality plastic material which is much more durable. So, if you plan on using your new toilet regularly, I recommend you to consider the high-grade construction.
Waste Disposal
When filled, you portable toilet will need to be emptied so that you can continue using it. Now the worry is how you empty this waste. While the water flush toilets are somehow more convenient to use, you'll need specific sites to unload them. Most RV sites provide such facilities, but if you're traveling in wilds emptying can be a challenge.
Most regions have the restrictions of buying such waste- be sure to check before traveling. The biodegradable sacks designed for portable toilets are easier to empty in the countryside.
They come with a powder that solidifies liquid waste and can be buried. You should do this at least 6 inches deep and in a location around 100 yards water from a water source. Since the toilet paper might take longer to break down, you're advised to consider the disintegrating toilet paper available in camping supply stores.
Ease of Use
Boating marinas and RV parks usually provide a toileting area. But for other outdoor activities such as camping, you'll need to make a set up every time you stop for a given period of time.
As such, part of your selection process for the right portable toilet should be based on the simplicity and speed of setting it up for use. And when doing so, you also need to consider the location in which you'll be using your toilet.
Privacy
For most people, a portable toilet comes to mind when they think of boating or camping.
Another situation where the mobile unit will be of benefit to you is at the tailgate parties or picnics. In such cases, you'll definitely need some bit of privacy when using the portable toilet. Though most of the portable toilets do not come with a privacy shelter, you can purchase one separately to offer a private area for users of the toilet.
Ease of Maintenance/Cleaning
Part of using the portable toilet the right way involves cleaning it at regular intervals. Because it might not be possible to use harsh chemicals to clean your unit while outdoors, it would make sense if you buy a toilet with a slick interior.
This prevents waste from sticking and makes the process of dumping it into the hole easier. It also ensures that odors are kept off from lingering after dumping the toilet.
Our 10 Best Portable Toilet Picks:
1. Camco 41541 Portable Toilet Review:
​
If you're on a tight budget but still want to enjoy the convenience of a portable toilet, this Camco model will be a great option. Despite the low pricing, it's a great product that promises you an entirely portable setup.
You'll get a brilliant, huge holding tank with a holding capacity of up to 5.3 gallons. What's more, this tank is detachable and easy and fast to clean when not in use. If you're embarking on a rough trip, this will be a great option as well. And this is based on the fact that a sealing slide valve excellently locks in the odors and keeps off any chances of the toilet leaking the contents.
Following many complaints that has been raised by users over other toilets having tanks moving independent of the toilet, this model has jumped to eliminate this problem. They have set the side latch such that it secures the system.
This ensures everything stays in place even when moving the toilet. With the bellow type flush mechanism that comes with this toilet, you're set to enjoy a powerful flush.
The fact that this model is small- measures 6.7" x 5.9" x 55'- makes it space efficient and can be used in small environments without any issues.
When it comes to the durability of this toilet, you've nothing to worry about. This unit has been tried and tested extensively. And guess what? It has proved to last for longer than you can imagine- in a variety of environments (both the interior and exterior).
Other than the compact construction, the entire system is also extremely lightweight. At only 330 pounds, there's not a single doubt that anyone can easily handle the toilet. Overall, Camco 41541 is a great portable toilet that will meet the needs of any buyer out there.
Highlighted Features:​
Comes with a huge (5.3 gallons) holding toilet that is easily detachable
Sturdy construction makes it last longer
Compact and lightweight design make it incredibly portable
Side latches fully secure the tank to the toilet
Sealing slide valve minimizes chances of leakages and locks in odors
2. Camco 41545 Travel Toilet Review:
​
The Camco 41545 Travel Toilet also ranks among the best portable toilets on the market right now. One of the most notable things about this unit is that it comes with an excellent flushing system as well as a toilet height that mimics the indoor setup you're used to.
And the fact that it comes with a cool dark beige color ensures it does not draw much attention (which is unwanted).of course, you know this is a toilet so that it won't give you a pleasant experience.
But Camco has put extra effort to make this unit the most user-friendly emergency toilet out there.
Now the system comes with a clean water tank that holds water for flushing purposes. Besides, there's a "used" tank that holds the waste material. Note that the two tanks are tightly sealed such that they all the odors inside are kept from leaking. You might look down to this particular feature for now.
But wait until your toilet falls over- you'll truly be grateful for the sealing power that prevented any mess from occurring. Good news- the package comes with some deodorizing or cleaning chemicals that helps contain other scents as well as helping you clean the toilet much easier and faster.
These chemicals are considered environmentally unfriendly. So, if you would like to leave the waste in the woods it would b great if you buy them separately.
Similar to the other product from Camco, this unit also comes with a high capacity holding tank of up to 5.3 gallons. Additionally, it measures 16.4" x 16.25" x 18.4" and weighs only 11.7lbs when empty- making it pretty portable for you. It's also the best portable unit you'll find on the market if you're on a tight budget.
Highlighted Features:​
features a 5.3-gallon holding tank that you can quickly detach
Powerful Bellows type flush
Side latches ensure the tank is well secured to the toilet
Compact and lightweight design make the toilet highly portable
Sealed gate valves effectively lock in odors and minimize any leakage cases
3. Thetford 92360 Porta Potti 550E Curve Portable Toilet:
​
You can get enough of Thetford 92360 Porta Potti 550E Curve Portable Toilet when it comes to meeting your needs for a portable toilet when on a trip or camping. The system is not well designed to fit in juts any place, but it also comes at incredibly low prices.
It has an optional hold know kit- an important feature that is relatively rare in other portable models. The water tank handle has been improved from the manufacturer's previous designs, making it easier for you to carry without cutting into your hands. And that makes it easy for you to carry it over long distances without any issues (unlike the other models).
Both the toilet's water and clean water tanks feature indicators. These make it incredibly easier for you to know when to refresh or empty them. The unit's flush controls are battery powered and quite strong than those featured in other models.
As far as the looks are concerned, this unit is as modern and sleek as you can imagine. Actually, you might think it is a large coffee machine instead of a toilet. These looks are, however, just for show and you can expect to sit comfortably on the unit's comfortable seat that has the right size for all sizes.
As a bonus, the toilet comes with an incorporated toilet paper holder that makes it convenient for you to attach disposable toilet paper.
Straight from Thetford, the Porta Potti 550E is one of the best portable toilet models you'll find on the market today. It presents you with a load of impressive features that ensure you get the best experience when outdoors.
Highlighted Features:​
Modern, sleek, homelike design
Comes with a comfortable seat height suitable for all users
Integrated toilet paper holder makes the unit even more convenient
Increased bowl size
Improved water tank carry handle
Optional hold-down kit included
Concealed battery-powered flush controls
Level indicators for both the waste and fresh water tanks
4. Reliance Products Hassock Portable Lightweight Self-Contained Toilet:
​
If you're looking for a design that will offer you some great level of comfort as well as the best hygienic experience, this is it. The Hassock Portable Lightweight Self-Contained Toilet from Reliance Products has a great potential to meet all your needs and expectations.
This incredibly compact, low-priced portable model employs Eco-fresh packets which keep things smelling good- giving you a peace of mind while on a trip. The toilet is fully compatible with Double Doodie bag- also sold by the same company- for convenient transportation.
In the package, you'll get one Eco-fresh packet; this will serve as a good way to test if you'd like to continue purchasing and using the packet. The bag mentioned above is sold separately. Nevertheless, you're highly recommended to buy it if you want to keep your unit as clean as new.
Unlike other Reliance models, this unit was designed with great care. For instance, you'll note that its seat has been contoured for the ultimate comfort plus an inner splash cover (no need to worry about something kicking back to you) and a toilet paper holder for the best experience.
If you don't wish to buy the Double Doodie bag, no need to worry. You can easily remove the inner bucket and clean it separately from the main system. The Hassock is incredibly lightweight, at only 5 lbs, yet it can accommodate a user weighing up to 300lbs! It also comes with a compact design of 13.7" x 14.2" x 14.2".
The manufacturer guarantees you against manufacturer defects for up to 5 years. Meaning you'll get plenty of use out of this unit for its lifetime. Out of all the models from Reliance products, this is the most favored models by users all over.
Highlighted Features:​
Portable, self-contained toilet that's incredibly lightweight
Comes with Eco-fresh packet that drives away unpleasant odors
Suitable for camping as well as boating
Offers you a 5-year warranty against the manufacturer defects
Compact design makes it space efficient
Removable inner bucket for easy waste disposal
Compatible with Reliance's Double Doodie bag- sold separately
Contoured seat ensures user comfort
Inner splash splashguard and toilet paper holder makes it more user-friendly
5. Best Choice Products Camping Hiking Dual Spray Jets Travel Outdoor Portable Toilet Review:
​
Straight from Best Choice Products, this portable toilet with spray jet comes with a compact design as well as comfortable style. And that makes it a great companion for all outdoor enthusiasts.
As a matter o fact, the unit has an ultra-light weight of only 10lbs which makes it super convenient and easy to carry around. What's more, the waste tank is easily detachable for easy waste disposal and cleaning.
Adding to the above, the odorless feature of this unit makes it highly comfortable for you. Its water saving capabilities too cannot go unmentioned as it makes for an environmentally friendly unit in the long run.
As an ideal unit for camping, hiking, road trips, and so much more, the portable toilet comes with equipped with a comfortable seat, a seat cover, hinge pin, and a portable tank. The toilet takes up to 50 flushes at a go. It has a significant holding capacity of 5 gallons which means you don't need to keep emptying it.
The tank and the bowl are secured together using two side latches to minimize leaking out of odors.
The dual jet featured in this impressive portable toilet enhances its flushing and cleaning power. It's quite stable and can hold up to 440 lbs- meaning it can withstand pressure from any user. Its exact dimensions are 16.25" x 14" x 16".
Highlighted Features:​
Portable, convenient, water saving, lightweight, and odorless unit
Designed for most outdoor recreations
The perfect gift for all outdoor enthusiasts
Detachable waste/fresh water tank for easy cleaning
6. Camping Toilet by Zimmer - 5 Gallon Portable Toilet:
This is a compact toilet by Zimmer that comes with a waste limit of 5 gallons which means you don't need to keep emptying it now and then. It also comes with a 3-gallon fresh water tank for convenient flushing. This unit is self-contained with its waste unit held up along with corrosion resistant clips. It is perfect for all types of outdoor uses- from boating to hunting trips, camp site, RV, etc.
The unit features a sturdy construction; it is construed from high-density polyethylene material which makes it ideal for almost any rugged outdoor environment. The portable toilet comes fully assembled and ready for use. It features a detachable tank for easy cleaning and waste disposal.
The two side latches firmly secure the tank to the toilet, preventing any cases of leakages. With these latches, cleaning and treating the toilet is also a breeze. The power bellow-flush mechanism is super efficient. The overall matte finish is perfect for concealing any scratches and making the product look as great as new.
Though sturdy, this toilet is extremely lightweight and compact, making it easy to travel with. It weighs only 9.75 lbs, and its exact dimensions are 6.5" x 13.5" x 12".Overall, this is an excellent camping toilet for any user.
Being a sturdy toilet, it can accommodate up to 440 lbs. The compact, lightweight, and durable features make it suitable for outdoors.
Highlighted Features:​
Rugged, compact and lightweight design
Side latches prevent odor leakages
5-gallon holding tank and 3-gallon clean water capacity
Scratch proof matte finish
7. Dometic 301097502 Portable Toilet:
​
With this Dometic 301097502 Portable Toilet, portability gets a new meaning. This is incredibly portable and a compact toilet that you can easily tuck away when not using it. The 5-gallon unit is a full adult-sized model that has an elongated seat to make it user-friendly.
Its body is constructed from the highly durable ABS to make it serve you for longer. This material is also scratch resistant; thus your product looks new even after many years of use.
The clean water flush mechanism for this unit is activated using a hand pump to flush all the contents efficiently. All you need to do is press a button, and the handle empties your waste into the holding tank. This tank has a high volume holding a capacity of up to 5 gallons which means it won't fill quickly.
Each of the pressurized flushes will use about a pint of water. The unit comes with a prismatic level indicator that helps you monitor the level of holding the tank and empty it when necessary. To make it easier for you to empty this tank, the unit comes with an extra long spout as well as an air vent.
In summary, this is a great portable toilet for all users and any use. It's quite comfortable, durable and resistant to scratches and corrosions. The pressurized flush system reduces water wastage. The level indicators ensure you don't encounter filing and messes.
Highlighted Features:​
Highly Durable and sleek design
ABS construction
Comfortable and easy to clean/maintain
You can choose from Tan and gray color options
Full-size seat for added comfort
Natural view, prismatic tank level indicator
Powerful push-button pressurized flush
High volume- 5 gallons- holding tank
8. Palm Springs Outdoor 5 Gal Portable Outdoor Camping Toilet Review:
​
The Palm Springs Outdoor 5 Gal Portable Outdoor Camping Recreation Toilet is a perfect option if you're looking for a basic model for your outdoor camping needs.
It mimics the traditional toilet and flushes your waste into a holding tank that holds up to 5 gallons before you can empty it. The reasonably priced toilet is extremely versatile and can be used in many outdoor situations including camping, caravan trips, and so much more.
The unit comes with a list of impressive features that guarantees you quality at a pocket-friendly price. It comes with a sturdy, full-sized toilet that makes you safe and comfortable when using the toilet. You might be even unaware of how long you've sat on it!
When fully assembled, the system measures 16.5" x 13.5" x 12" making it a small toilet that can just fit into any space. Aside from this, it also comes with an incredibly lightweight design – weighing only 9.75 pounds- making it even more portable. The clean, fresh water tank has a volume of 3 gallons- a quite high capacity compared to its competitors.
The toilet is engineered from high-density polyethylene material that ensures ultimate strength and durability. It features a double sealed valve that prevents odor leaks from the waste tank.
Overall, this is a multipurpose portable toilet that you can use in any outdoor situation. Designed for maximum durability, the toilet will serve you for many years to come. The compact, lightweight design gives you an easy time transporting it to just any place.
Highlighted Features:​
Self-contained portable toilet that can be used in most outdoor situations
Comes with a sturdy, full-size seat/lid-matte finish helps conceal scratches
Leak-proof tanks constructed from high-density polyethylene material
Lightweight and compact design improve its portability
9. Stansport Portable Camp Toilet:
​
This is a pretty compact and sturdy portable toilet model that features a height, width, and depth of fewer than 15 inches. With the small footprint, all users are satisfied at how stable this toilet is.
Even though it's incredibly lightweight (at only 9 lbs), this unit will take up to 350 pounds. Carrying this toilet is easier than you can imagine, thanks to the built-in handles that caters for simple transportation.
The construction of this toilet is quite sturdy. This translates to the unit being able to offer you a lot of support when you're using it, and the heavier lid stays down due to its weight. The compact size of this toilet makes it easy for you to transport it in almost any car.
The toilet is large enough for anyone to use it comfortably, yet it's small enough for convenient storage when not in use.
If you're planning on camping, hunting or overnight fishing trip, this is the best portable toilet for you. Compact enough to fit any car, you'll have an easy time conveying it to your destination. The fact that it's sturdy means that it will stay for longer, even with extensive use.
Highlighted Features:​
Full-size seat ensures ultimate comfort
Gives you the comfort of home toilet when camping
Supports up to 350 lbs
Lid comes with a sturdy, thick wall design
Built-in handles make it real easy to carry this unit
Disposable sanitary bag included
10. Earthtec ETEC Non-Stick Sanitary Portable Toilet Bowl:
​
The last portable toilet we'd highly recommend you to consider when looking for the best portable toilet is the Earthtec ETEC Non-Stick Sanitary Portable Toilet Bowl. With this unit, cleanliness and sanitation while outdoors will never be an issue. The toilet features a stick-resistant, nanotechnology polymer that ensures waste do not stick to the bowl. The surface is also easily renewable for easy cleaning and sanitation.
This unit stores all the waste in an airtight, completely sealed holding tank that has a capacity as big as 5 gallons. When this tank is full (which takes time), you simply carry the base of your toilet to your preferred disposal area.
Rotate the easy waste spout away from toilet body and easily empty your tank without any cases of mess or spillage. The fact that you can easily separate the fresh water tank and the waste tank makes it real easy to clean this unit.
Though it features a compact, lightweight construction, this toilet ranks among the sturdiest models on the market today. In other terms, it can support up to 440 pounds!
Transporting or storing this toilet is super easy. It weighs 13 pounds only and measures 16.5" x 14.6" x 16.9". This makes it an ideal unit for getting the job done even in the smallest spaces.
For improved comfort, this unit offers you accessories such as the armrest and height brackets. Not to forget cleaning supplies as well as toilet tent for privacy. Best of all, the toilet comes with a one-year warranty.
Highlighted Features:​
Airtight to lock in the unpleasant odors
Lightweight yet sturdy construction (can hold up to 440 lbs)
5-gallon holding tank
Exclusive Non-stick bowl for extra sanitation
Easy pour spout for easy waste disposal
Top 10 Tips For Using a Portable Toilet The Right Way
Before you start using your new portable toilet for the first time, you should consider reading the user manual (if included). Usually, the process is fairly similar for most of the toilets, and only varies based on the type of toilet you're using.
Let's look at some helpful tips on how to use your portable toilet the correct way:
1. Firstly, you'd want to find an effective way of combating the odors- it's one of the main problems associated with these toilets.
Consider using powder coated gelling agent. These not only neutralize the odors in solid waste, but they also make the liquid waste easier to transport. If using the gelling agent or a bag liner, ensure they're environmentally-safe; otherwise, you'll be forced to carry your waste with you when leaving the dock or campsite.
2. Though using a portable toilet is a similar experience to your indoor toilet, most of them do not offer you any form of privacy. Gladly, you can look for a privacy tent at the shops if you want to be discrete. Alternatively, you can clear between bushes to keep you sheltered from open wilderness.
3. Always ensure that you place your portable toilet far away from where you've set up your sleeping tent. This ensures that the odors coming from the unit do not disturb you at night.
Additionally, it will prevent the odors from attracting insects as well as wild animals to your tent. Above all, ensure your unit is far away from your food source to avoid the risks of cross-contamination and food-borne diseases.
4. The toilet paper you carry with you outdoors should be biodegradable, others you will have to take your waste with you home to practice proper disposal.
5. Always keep sanitation in mind when using your toilet since you might not have access to water for washing your hands.
It would be a viable idea to keep a hand sanitizer bottle near your unit so that you clean your hand using/cleaning. The sanitizer would prove even more useful if many people are using the same toilet.
6. When is the right time to empty your toilet holding tank? Right, when you observe that toilet waste reservoir is getting full (the liquid is near the top of the reservoir opening), it's time to empty your tank.
Luckily, most portable toilets come with indicators that let you easily monitor your holding tank and empty it when the right time comes (when the indicator turns red). This goes a long way in keeping off any cases of waste spillage which can be a hell of a mess to the user.
7. To successfully empty out you portable toilet contents, you'll usually use the campground dump station or sewer clean-out if doing it at home.
Before you dispose of the waste, however, you ought to check your campground rules for the particular waste dumping rules.
8. After emptying the waste, make sure you wash your toilet thoroughly before you start using it again. The process is pretty simple, but you would want to keep off any harsh or abrasive chemicals as these might damage your bowl, seal, and valve blade. Just a little amount of dish soap, sponge and water will do.
A garden hose can do the clean up pretty well. If you notice that some deodorant or disinfectants remain in the holding tank after washing, slosh the water from your hose inside the tank to loosen it and then empty it out.
9. If you are not going to use your portable toilet for some time, you should empty it completely, wash it thoroughly and leave it empty. For odor or sanitation control, you can consider adding a fresh dose of deodorant/disinfectant to your holding tank plus half a cup of water.
10. Avoid leaving your toilet top filled with the flush water as this may easily freeze and even damage your unit.
Final Verdict
If you're buying a portable toilet for the first time, our guide above will guide you into the right direction while pointing out to you what to look for in these products. The top factors that will take you to the best portable toilet include the toilet volume, size, price, level of comfort, the material used to construct it, ease of use, waste disposal method, privacy, and ease of maintenance.
In our portable toilets review section, we have picked the ten best toilets that have been rated highly by previous users all over.
The products that made it to our list are incredibly innovative, highly useful, and offer you a wide range of impressive features. They're thoughtfully designed to make sure you enjoy the thrills awaiting you when you go out there. If you've not yet picked the ideal one for you, do it right now. Pick the one that meets your needs and specifications and make an order right away.