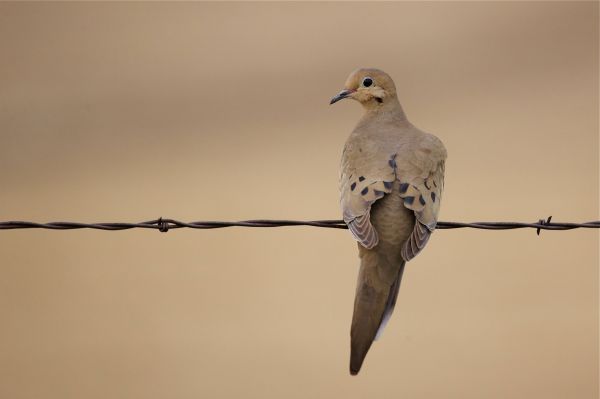 Top 5 Best Dove Decoy Reviews – What The Pros Use?
So the dove season is just a few weeks away? And now you're trying to figure out the most effective dove hunting strategies to employ. You've all the necessary hunting gear with you. But do you have the best dove decoy with you?
If not, you're not yet ready for dove hunting. Doves are simply flocked birds that respond perfectly well to the decoys.

Just hanging static decoys on the branches of a dead tree will act as a great attraction to these birds. In fact, if you use decoys that look like live doves and simulate lifelike dove movements, you'll attract flocks and flocks of doves.

Here's our top 3 picks:
And you know what? In the next few moments, I'll be offering a list of the FIVE most effective dove decoys on the market right now. These are top-quality and highly reliable decoys that all successful hunters have been using to draw the birds to a closer range for comfortable shooting.
But first, let me teach you how to pick a great dove decoy on the market:
Things To Consider Before Buying Dove Decoys
Durability
Most of the dove decoys you'll find out there are made of highly durable material such polyester. This makes them withstand the harsh conditions you use them in- from barbed wires, high up on dead tree branches, and so on.

At the same time, there are decoys made of low-quality materials, which means they will start to tear, wear and fade after several uses.

Let the product you buy be robust enough to endure the toughest of the environments under regular use without wearing or fading.
Price
The market is populated with loads of dove decoys having different features and prices. You should, therefore, be as much careful as possible whenever you're buying your decoys to ensure you get the best quality for your hard-earned cash.

Basically, higher prices mean higher the quality. But this is not to say that you can't get a cheaper decoy with great features. Just research on the decoy you're planning to buy to ensure it will meet your needs and expectations.
Number of Decoys
While there is no set number of decoys for dove hunters, carrying more decoys is always recommended.

The more decoys you have, the higher your chances of bagging the doves. You'll be able to convince more doves to fly by your shooting stand. When you're starting out, it will be good if you buy 1-2 dozens of decoys and at least a spinning wing decoy. You can add more decoys with time to meet your dove hunting needs.
Realism
Using a dove decoy is the best way to get the bird's attention. They will entice the birds closer to your range for an easy shot.

To ensure your decoys are as highly effective, you should pick the one that looks like a true-to-life dove. The most realistic decoys have a realistic feather detail, a perfect dove anatomy, and lifelike motions that make them look like real doves.
Our Top 5 Dove Decoy Picks:
1. Mojo Outdoors Voodoo Dove Decoy Review
The Mojo Dove is one of the greatest successes in dove hunting field, having revolutionized how we hunt these birds.
Mojo has made significant improvements to this decoy such that it takes all the impressive features of their first electronic dove decoy. On top of this, they've added a magic touch to it to make it ready for your hunting job. They decoy features a redesigned body position which is realistic enough to pull in a dove right out of the skies.
Another equally important feature that makes this decoy worth your cash is the magnetically attached wings.

You don't have to worry about losing the set screws anymore! Being an incredibly lightweight decoy, you won't face any challenges when transporting it to the fields. Plus the fact that it's easy to use means you'll set it up in a few seconds and wait for the doves to fly by.

The decoys run on around 231/2 hours using 4 AA batteries (not included). In other words, it will sustain you in the fields for the entire day. A 2-pole durable steel support pole is included in the package, making it much easier for you to set up your decoy.

With a large body design, the doves can easily detect it when flying up in the air.

Highlighted Features:
Incredibly easy to operate
Ultra-realistic and highly effective, motorized dove decoy
Redesign with a larger body and better landing portion, making it highly visible to the doves
Robust construction makes it highly durable
2-piece stake for holding it in place available
90day manufacturer warranty
Battery operated to produce lifelike motions
Lifelike body and wings design to attract doves easily
2. Lucky Duck Rapid Flyer Dove Hunting Decoy Review
If you're looking for the best way to draw in doves in the fields, this is the right decoy to use. The Rapid Flyer Dove employs motorized flapping wings which make its realism comparable to nothing.

The decoy comes with a periodic timer (suited in the flapping wing) that makes the wings move and stop for the ultimate realism. Now that's one feature that will draw doves in like crazy! Setting up the decoy is as easy as pie.

With a built-in clip that comes with this decoy, you'll quickly and easily attach it to trees and fences.
The package comes with sturdy steel stake that makes it, even more, easier to set up in any environment. The fact that you can adjust this stake from around 7 to 12 inches gives you an edge while setting up your decoy in the fields.

The Rapid Flyer Dove is not only lightweight but also come with a fabric carry case. Meaning easy transportation to the fields. Its wings are removable for easy transport and storage.

The decoys are operated using 3 AA batteries (not included).

Highlighted Features:
Steel ground stake for easy setup
Utilizes 3 AA batteries
Comes with a built-in clip for easy attached to trees or fences
Intermittent timer for lifelike motions-realistic wing flapping motions
3. MOJO Outdoors Clip on Dove Decoys Review
For a larger pack of decoys (all at a low price), this Mojo Outdoors Clip on Dove Decoy is your best choice. A single package of this decoy included four decoys to help meet your dove hunting needs. Realism gets a new definition this decoy.

It comes with wind driven wings that will spin when hit by the slightest breeze to convince a wary dove to approach. If you're hunting in areas where motorized decoys are prohibited, this is the go to decoy for you.
The dove features a patented breast peg as well as a support pole which make it incredibly easy for you to set up.

The peg has a clothes pin adaptor that allows you to configure the decoy on almost any support- from limbs, branches, wires, support poles, etc. The true-to-life paint schemes all over the decoy's body take its realism a notch higher.

The hard body construction guarantees you of many seasons of use without wear and tear.

Highlighted Features:
Each pack comes with four decoys
Super-realistic, hard body decoy
Employs cutting-edge decoy technology for smooth operation
Attaches to almost everything
Can be paired with the Mojo motorized Voodoo decoy for the best results
4. MOJO Outdoors Wind Dove Decoy Review
This is another improved version of the Mojo's popular dove decoy will help bring your decoy spread to life. It's a wind spinning decoy whose wings will move in the slightest breeze for realism.

The decoy features outspread wings plus a 3D body design that looks like that of a real dove. The decoy is the perfect choice if you're hunting in areas where motorized decoys aren't allowed and you still want to enjoy the lifelike motions of motorized decoys.
The decoy employs a patented breast peg design, making it real easy to set it up on almost any everywhere. What's more, it comes with a steel support pole that makes it even simpler to set up in your hunting fields.

Above all, it's construed of durable material to enable you to enjoy a lifetime of hunting.

Highlighted Features:
Efficient, wind-driven wings for ultra realism
Patented breast peg
Support pole included
Perfect for use where motorized decoys aren't allowed
5. Edge Innovative Clip on Doves Hunting Decoy Review
Edge Innovative Clip on Doves Hunting Decoy is one of the most realistic decoys on the market right now. It features a feather detail, paint schemes and perfectly sized body that look that like of a live dove.

Drawing doves closer couldn't get easier than this. The decoys fairly big size plus realistic coloration makes it highly visible to bird high up in the sky.
To deploy the decoy, just clip it around tree branches or fences- or wherever- and start hunting. The complete decoy package comprises of 4 decoys, all the same price.

Highlighted Features:
East to operate; juts clip them on fence, trees or anywhere else
Comes in a pack of 4
Heavy duty clip ensures secure mounting
Realistic body detail makes the bird appear authentic to the doves
Final verdict
Dove hunting is the simplest- regarding equipment and preparation- and the most favorite social sport for many folks. It's also the best shooting exercise for absolute beginners
Adding a dove decoy to your hunting gear makes the game even more exciting. In our above post, I've recommended to you the five best dove decoys that raise your game in the field and set you from your fellow hunters.
With these decoys, I guarantee you that you'll attract hundreds (if not thousands) of flocks. They're realistic, durable, easy to transport to your hunting location, and highly reliable.
Furthermore, they come at extremely affordable prices making them affordable to all hunters (including those on a tight a budget).
Place your order now and outshine your fellow hunters in the next hunting season.